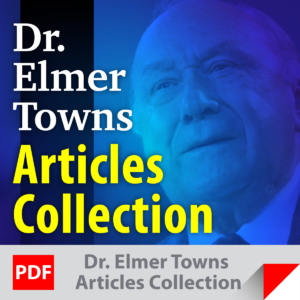 If you haven't yet met Dr. Elmer Towns, I'd like to introduce you to one of my mentors who is celebrating 88 years young today! 
Dr. Towns is a spiritual giant who you'll also find to be a great encourager to pastors. He is someone I have studied and looked up to since day one when I went into ministry.
An expert in historical church growth and an author of over 200 popular and scholarly works, Dr. Towns has also spoken at several of my live events and coaching sessions. And he is the first-ever recipient of my Renegade Pastors Icon Award to acknowledge Excellence in Abandoning Average in Life and Ministry.
Dr. Towns is "an author-teacher who loves to study, share and teach." After more than 40 years of teaching and over 200 popular and scholarly works, this college and seminary professor has educated, equipped and inspired spiritual leaders throughout the world.
ACCESS YOUR FREE ONE-OF-KIND ELMER TOWNS COLLECTION
This week it hit me that I have a treasure trove of Towns church growth articles, full books, reports and audio teachings. I'd like to give all this to you today for FREE:
A Church Growth Champions Report on the life and legacy of Dr. Towns
A Collection of Hand-Picked Articles and Full-Length Books from Dr. Towns
"The Power of a Big Day" Conversation — an audio of the interview with me and Dr. Towns
Click here to pick up your free Towns collection! 
This church growth-focused collection does not exist anywhere else…don't miss your chance to pick it up, this week only.
I hope you will be inspired and encouraged in your call to ministry — and in your mission to reach more people for Christ!
Your partner in ministry,
Nelson
P.S. Also, when you pick up your downloads today you'll have the option to share a personal birthday greeting with Dr. Towns!
Click here to access your FREE Elmer Towns Collection and share a birthday greeting today.