I hope you can join us THIS Wednesday for a timely FREE training that will help you re-evaluate and re-energize your Small Groups.
Over the last two and a half years as we went through the pandemic together, many things changed in our churches…nothing more profoundly than how we did or didn't do Small Groups. And Small Groups are a great way to help your people grow in their faith, study the Bible, meet new people and enjoy fellowship.
But as things are on the rebound, now is the perfect time to look for new ideas and be reminded of evergreen ideas that work to not only increase attendance but also to more deeply engage those who are already in groups.
RSVP now for a packed 75-minute Zoom training to discover 5 Ways to Grow Your Small Groups in the Post-Covid Reality.
Click here to learn more and reserve your FREE spot now — space is limited!
In this fast-paced, highly practical training, we will explore how to:
Create and fill more groups
Raise up new leaders
Balance online and offline groups
Move online groups to in-person groups
Plus much more!
FREE with RSVP while spots still available…
New 75-minute Zoom Training:
5 Ways to Grow Your Small Groups in the Post-Covid Reality
Wednesday, Sept. 21st @ 2:00pm – 3:15pm ET
Don't miss this time-sensitive online training! By RSVPing below, you'll save your spot and get reminders about the 75-minute LIVE Zoom webinar so you don't miss this brand new teaching.
Through this practical training, you'll discover:
How to create a healthy mixture of in-person and online Small Groups
How to utilize one of the greatest — and most surprising — felt-needs in society right now
How larger groups can lead to healthier groups
Multiple and effective ways to highlight your Small Groups
How to significantly increase the chances that those who sign up, show up
PLUS, when you sign up now AND show up to the live training, you'll be eligible to win: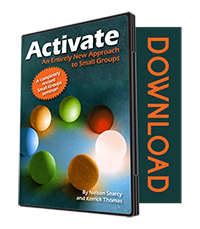 A FREE download of the 3-hour audio resource, The Activate Seminar, which gives you all the basics you need to start or improve a semester-based small groups system — awarded during the webcast (you must be online and hear your name called to win!)
Plus everyone will receive a FREE summary document of the live teaching, following the webinar.
Space is Limited – Click Here to Reserve Your FREE Spot Now!
Kick-start your Small Groups for the fall and beyond by joining a great group of high-achieving pastors this Wednesday. I hope to see you there.
Your partner in ministry,
Nelson
P.S. Go on and also share this to your staff and other pastors you know who would like to re-energize their Small Groups in new and effective ways.
You can direct people to this link:
www.ChurchLeaderInsights.com/Groups