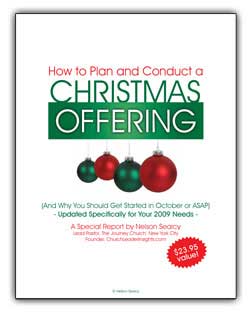 What if you could greatly expand your church's ministry potential and encourage spiritual growth within your church by adding one thing to your annual schedule?  Now is the time to start planning your church's Christmas Offering.
I just revised and updated my How to Plan & Conduct a Christmas Offering E-Book and I'm giving it away FREE.  It's designed to teach you the step-by-step process of planning and conducting a Christmas Offering at your church.
To download your copy, CLICK HERE.
ALSO — Along with the new report, I'm doing 4 FREE WEBINARS next week, where I'll walk you through the planning process and help you get everything together to launch and conduct your Christmas Offering just in time.
When you download your report, be sure to sign up for the webinar that best fits your schedule next week!
http://www.ChurchLeaderInsights.com/christmas