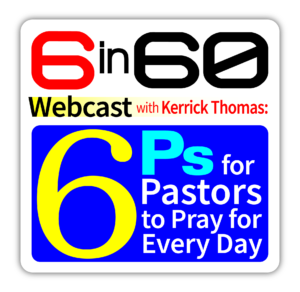 Being a pastor (even during non-COVID times) is a stressful calling.
90% of pastors report working 55-70 hours a week.
50% of pastors feel inadequate to meet the demands of the job.
75% of pastors feel extremely or highly stressed.
70% of pastors say they are grossly underpaid.
91% of pastors say they have experienced some sort of burnout in their ministry.
That's why the Pastor's Prayer Life is so important. That's the source of our strength and where as pastors we renew God's purpose for our calling each and every day.
Join us for a power-packed 60-min online training to discover the 6 Ps for Pastoral Prayer. These are six things to ask God for every morning — based on promises of God from Scripture — that will help prepare you for the day of ministry ahead and reinvigorate your calling each day (even during the toughest of times).
Open to all pastors including Senior Pastors, Executive and Associate Pastors, Small Groups Pastors and Other Roles:
6 in 60 Webcast: 6 Ps for Pastors to Pray for Every Day
Wednesday, October 13th — LIVE from 2:00pm to 3:00pm ET
FREE when you RSVP today — just click here to sign up! 
In this brand new, very practical webcast, you'll learn how to strengthen your own prayer life, especially for:
– When things go wrong 
– When you need direction for the day
– When you have to engage with difficult people 
– When you are facing temptations
– When you are struggling with your circumstances 
– When you're feeling weak and unfulfilled
– When you're not sure how to move forward 
– And more!
Don't miss this time-sensitive online training! By RSVPing below, you'll save your spot and get reminders about the 60-minute LIVE webinar so you don't miss this brand new teaching.
PLUS, when you RSVP you'll receive log-in details and these 2 bonuses:
1) An immediate FREE audio resource, REPLENISH: The Pastor's Guide to Avoiding Burnout and Leading from a Healthy Soul by Lance Witt ($299.95 value). There is an urgent need for soul care in the private lives of church leaders today. This 3-hour downloadable resource will equip you with practical tools for detoxing your soul, developing strong spiritual habits and even leading a healthy ministry team.
2) And a FREE summary document of the live teaching that you'll receive after the webcast.
Click here to RSVP now to receive these bonuses and access to the live training!
Ministry is demanding but I encourage you to set aside these 60 minutes next week to recharge your own spiritual life from a pastor's perspective — sign now while spots are still available!
Your partner in ministry,
Nelson
P.S. Go on and also share this with your staff and other pastors you know who could use this encouragement in their daily life. This free training is open to all pastors — we are in this together.
You can direct people to this link:
www.ChurchLeaderInsights.com/6in60