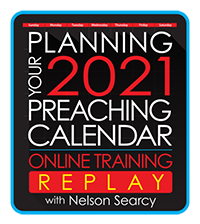 Did you miss it?
You can still plan your 2021 preaching calendar with me. Be sure to join me for my Planning Your 2021 Preaching Calendar online training — a ONE TIME ONLY replay. Miss it this week and it's gone forever.
Don't delay — I have a limited number of spots left at each of the 4 available times today, Wednesday and Thursday. I don't want you to miss out on this essential training that will have an exponential impact on all of 2021!
Click here to learn more and save your spot now!
This event will save you hours of planning time, relieve stress in preparing your sermons and increase your creativity. In this online training, I will walk you, month-by-month, through the specifics of the 2021 calendar to help you plan your preaching in advance! 
We'll also look closely at how the current pandemic will impact your preaching calendar — and how to address these challenges in your planning! 
Plus when you register now, you'll immediately receive a FREE sermon series valued at $169.95! 
You can choose from 4 new convenient times running on:
TODAY, Tues., January 19th @ 2:00pm – 3:30pm ET
Wed., January 20th @ 11:00am – 12:30pm ET  
Wed., January 20th @ 2:00pm – 3:30pm ET 
Thurs., January 21st @ 11:00am – 12:30pm ET 
Note: These are the same trainings, just repeated on different days and times.
Join me for my "Planning Your 2021 Preaching Calendar Online Training" – Final Week! Here's how I can help you and what you can expect to learn:
An inside look into The Journey's preaching calendar process and exactly how I structure it to maximize 2021.
How the current pandemic will impact your preaching calendar — and how to address these challenges in your planning
The planning strategies that have allowed me to increase my preaching impact — and the impact of the 2,100+ pastors I've coached — every time I step into the pulpit.
How a preaching calendar will help you reduce stress, improve creativity and break the week-to-week cycle!
Sunday by Sunday, all the pitfalls and possibilities built into the 2021 calendar
Why it's OK to have gaps in your calendar or even a partial calendar (especially in today's climate) and how to continue to build that out as 2021 progresses.
How to use the calendar to bring balance to your preaching and maximize the spiritual growth opportunities for your people.
A discussion of the prayer and preparation that goes into preparing the calendar.
When, specifically, to plan your 2021 Big Days (and when not to plan them).
How to make the most of people's natural seasonal patterns.
How to make Easter in 2021 more effective than ever at your church
Which days you can expect fewer people and how to best use those days.
And many more insights that will save you hours all year long!
When implemented, a preaching calendar can multiply your impact exponentially and maximize every message, every worship service, every Big Day to be the very best it can be in transforming lives for Christ!
Will you join me for this time-saving event? Just 90 minutes of your time with this online training will save you HOURS of planning time.
Click here to save your spot now for this final replay!
Your partner in ministry,
Nelson
P.S. This is your final opportunity to get this practical training for 2021! Join me for this one-time replay for only $37 – and receive over $1,203.95 in bonuses. Limited space available!
Click here to sign up now and access your bonuses!