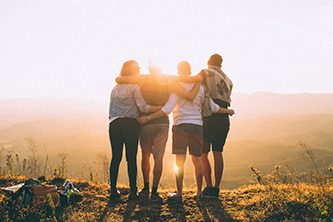 Do you have people in your life who encourage you to be your best? Do you have friends who are there for you when life is hard? Do you support other people when they need you and share in their happiness when things are going well?
Studies show that, despite our overly connected world, the number of true confidants people have has been steadily dropping over the last few decades. While we may have many friends on social media or many casual acquaintances, we aren't living life with our friends as well as generations past.
You need to have people you can really talk to and be yourself with no matter what is going on, and your friends need you to be there when things are happening in their lives. Paul put it this way: "When we get together, I want to encourage you in your faith, but I also want to be encouraged by yours" (Rom. 1:12).
A certain phrase is often used in Christian circles: do life together. Doing life together is exactly what it sounds like–finding a group of friends you can walk with through life's ups and downs, friends you can encourage and be encouraged by. These are friends you can call on a Friday night to go grab pizza with. These are friends you feel comfortable having over, even if there is a pile of laundry on the couch and you are in the same T-shirt you slept in. When something is wrong, they are there for you and vice versa. There is no pretense, simply a mutual desire to be and have the type of friends we all need.
We all want to be known. We don't want to have to perform and make good impressions in our friendships. We want to be able to be ourselves and to be accepted for who we are. Again, developing the kinds of relationships in which this can happen takes intentionality. Sometimes it takes stepping outside of your comfort zone and taking a risk. But the reward is sweet.
– Nelson Searcy and Jennifer Dykes Henson
The above excerpt is from p. 104-105 of The New You: A Guide to Better Physical, Mental, Emotional and Spiritual Wellness.
With your copy of The New You, you will come away with specific strategies on how to lose weight, get more sleep, lower stress, nurture better relationships, connect with God and much more! Anyone who wants to trade in the frustration of average living and less-than health for the hallmarks of the new life God promises will find The New You an effective personal guide for the journey.
P.S. — Click here to grab your copy from Amazon today!
Your partner in ministry,
Nelson