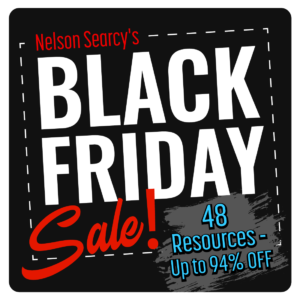 Thanksgiving has come and gone — but today you have access to more than just leftovers!
Take advantage of our biggest sale of the year with Black Friday savings on seminars, sermon series, team editions and even bulk books!
BLACK FRIDAY SALE – AS LOW AS $5!
Choose from 48 resources – Up to 94% OFF
Click here to check out all the details and save big now! 
I've gone through our store, hand-picked 48 powerful, practical resources and discounted each one (starting at just $5), including the following:
BEFORE YOU STEP ON STAGE
Just $5.00 (Regularly $29.95 – Save 83%)
1-hr seminar: I walk you through the four areas in which you must be prepared to know you are ready to give your very best before you step on stage every weekend.
UNSHAKABLE – PACK OF 10 BOOKS
Just $7 Each (Normally $9 Each)
I wrote this book specifically for first-time guests — it is meant to provide encouragement, spiritual next steps and biblical grounding. Every book comes with a free Unshakable bookmark with Scripture for difficult times.
BREAKING THE 125 BARRIER
Just $5.00 (Regularly $49.95 – Save 90%)
This completely updated and expanded seminar contains my teaching, motivation and ideas for breaking the 125 attendance barrier. Learn how to structure your staff, your budget and your church for dynamic growth!
HOW TO HANDLE CRITICISM
Just $25.00 (Regularly $299.95 – Save 92%)
2-hr seminar: Criticism is unavoidable, but don't let it derail your mission! Discover a Biblical, 9-step system for managing and responding to criticism that will radically improve your daily work in ministry.
WHY PEOPLE LEAVE YOUR CHURCH
Just $17.00 (Regularly $299.95 – Save 94%)
3-hr seminar: It hurts when someone leaves your church. We're often left wondering if there's something we could have done differently. I will show you how to decrease the number of people who leave your church —  and be content with those who do.
SPIRITUAL WARFARE 
Just $25.00 (Regularly $299.95 – Save 92%)
2-hr seminar: Arm yourself against spiritual warfare in the battle for the lost! Get the pastor's guide to defeating the Enemy as you mobilize for evangelism.
WISER SERMON SERIES
Just $64.00 (Regularly $229.95 – Save 72%)
NEW 8-week sermon series where you will show your people how to be wiser with their finances, work, family, sex life and more! This is a message series full of life applications to help your congregation make wiser choices and experience God's blessings.
UPDATED & EXPANDED: THE EVANGELISM SEMINAR
Just $69 (Regularly $599.95 – Save 88%)
6-part seminar: Attract more unchurched and mobilize your people to reach more people for Christ. Includes listener's guide, transcript, editable follow-up samples, Evangelism documents and more!
THE CHURCH MARKETING WORKSHOP
Just $149 (Regularly $599.95 – Save 67%)
2-day workshop: Fuel your evangelism — I reveal ALL the marketing tips, strategies and tactics I've discovered and applied from over 25 years in ministry. Includes 300+ page PDF workbook with dozens of samples.
AND MANY MORE!
48 RESOURCES & BULK BOOKS
CLICK HERE TO GRAB THEM BEFORE THEY'RE GONE!
Thanks for the opportunity to partner with you to reach your community for Christ.
Your partner in ministry,
Nelson
P.S.  Remember each resource comes with our 100% No-Hassle Guarantee: We are so certain these resources will benefit you and your church that we will give you a 365-day no-hassle guarantee. Take your time to listen to and implement the ideas in the resources you have purchased, and if at any time you are not fully satisfied, you will receive a prompt and courteous refund.
https://churchleaderinsights.com/blackfriday