One week from today is my anniversary – 18 years! Wow!
It's a big date that I have set on my calendar each year.
In fact, I've had reminders set on my calendar one month out, two weeks out, one week out, etc (yep, I have a 'reminder' system for my anniversary date – ha!).
Why all the reminders for my anniversary? Well, because I missed it once, on year number five (ouch – talk about painful!) and I won't ever do that again!
There's always pain when we miss out on key dates.
That's why I'm emailing you now – because TOMORROW is a key date for you…
Tomorrow is the Early Bird Application Deadline for my new Senior Pastor Tele-Coaching Network and Your Last Chance to Save $600.00 and Receive Over $645.00 in Additional Bonuses!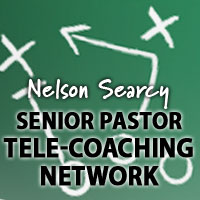 Did you know: After one year in my Senior Pastor Tele-Coaching Network, the average participant church has experienced a 30% increase in their weekend worship attendance and a 25% increase in their weekly offerings!
On a personal level, the average pastor in my network experiences a renewed focus, passion and excitement because they have clear systems in place to lead their church and to maximize their own personal leadership.
To take it one step further – the average pastor's spouse in my network (yes, I hear from them all the time) is encouraged and thankful to "have their old husband back" and to "have them actually be home when they're at home."
They can actually enjoy key dates like anniversaries and Valentine's Days without having to talk about the church (or worse – what life would be like without it).
You too can experience this kind of growth and excitement! And if you agree with me that the Church can and should be making a bigger impact in our world, I believe that you're a good candidate for this new network.
Click the link below to Read All About this New Network and Apply Now (to avoid the pain of missing out on early bird status):
www.ChurchLeaderInsights.com/telecoaching
P.S. Please pray for Kelley (my wife) for putting up with me for 18 years 🙂
Now, off to buy her present! 18th anniversary – I can't recall; is the appropriate gift "paper" or "plastic"…