$25 Sale - Get this Exclusive Best-Selling Resource with Nelson Searcy's Time Management Secrets!
Make the Most of Every Hour of Your Week in 2021!
Only $25 Today Thru Tuesday, Feb. 2nd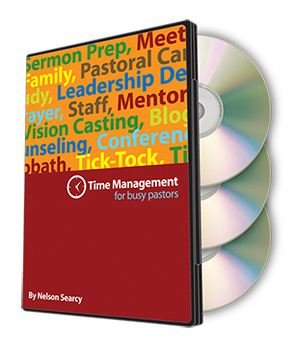 Pick Up Nelson Searcy's Bestselling Leadership Resource, "Time Management for Busy Pastors" for Only $25 (Regularly $299.95)!
Plus FREE Immediate Download with All CD Purchases!

We all would like to get more done, and in this three-hour seminar, Nelson Searcy will show you how! You'll discover 34 time-management principles that you can start applying immediately to get the most out of your day.
Combined they could save you over 60 hours a month!
Imagine having 60 extra hours to focus on what's important instead of always operating under the stress of the "urgent."
In this powerful, easy-to-implement resource you will learn:
What to schedule first in your calendar to maximize your time (Hint: It's not what you think!)
How to live off-peak (This alone will save you hours each month)
How to be efficient rather than busy
How to automate important tasks so you accomplish them on time, every time, with NO EFFORT!
How to live with the peace of mind that nothing will "slip through the cracks"
How to increase your effectiveness as a leader by knowing when NOT to use technology
How to identify and utilize several hours in your week that are currently "invisible"
And much more!
Includes: Three hours of audio training, fill-in-the-blank listener's guide, bonus audio teaching on what the Bible says about time management, bonus documents on time management principles and more.
You'll receive everything you need to start implementing these important principles immediately.
ENTER YOUR INFO BELOW TO SECURE YOUR COPY NOW: